Created in 2011, Twitch, a live streaming game site, attracts users who switch from TV to virtual interaction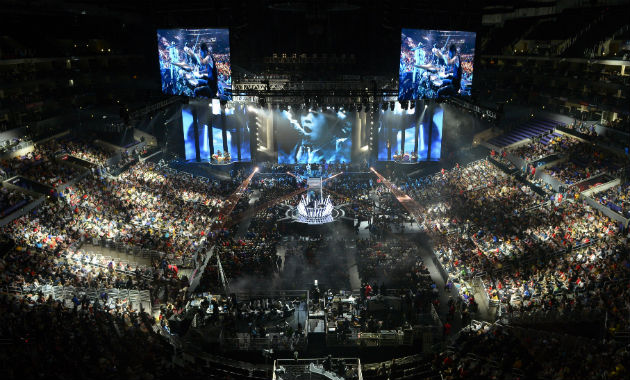 Final at Staples Center was accompanied by more than 5 million. PHOTO: AP
SAO PAULO – The Staples Center arena, in Los Angeles, is used to having tickets sold out for basketball matches and music shows. In October 2013, however, it was taken by fans of the League of Legends game in the game's world championship final. In addition to the physical crowd, the game was followed on the web by more than 5 million people through a site dedicated to real-time video game broadcasts called Twitch, which allows anyone to create a channel and show their games for free. and live.
In recent weeks, Twitch has become known thanks to a collective Pokémon game. But the success of the platform created in June 2011 is not new. In 2013, the site registered more than 45 million monthly visitors.
The numbers show an audience that is growing more and more: young game fans – in particular of titles that accept multiple players, such as League of Legends (LoL) or Defense of the Ancients 2 (Dota 2) – are leaving the TV of side to watch and stream your matches over the web.
According to data from Twitch, 68% of its audience reduced the time they watch TV to dedicate to games. "We are the new television: our users have the device, but they use it to watch games or watch Netflix. Pay TV, which broadcasts sports, has become obsolete," says Matthew Di Pietro, the company's vice president of marketing.
Galvão Bueno
"The advantage of Twitch is that it's free. Furthermore, only those who want are there", says Gustavo Ruzza, known on the web as Melão13. At 25, the boy graduated in Psychology, but left his patients on the couch to become one of the most popular LoL narrators in the country. With 50,000 fans on Facebook, Ruzza now works at an agency specializing in electronic sports.
He is not the only one. Specializing in first-person shooter (FPS) games, narrator William Lemos – or gORDOx – believes his 250,000 Facebook fans watch it because they find it funny. "I'm kind of Galvão Bueno", he jokes, who hours before the interview had just arrived from China, where he accompanied a Brazilian team in a FPS CrossFire championship.
on the wave
"Today I don't do anything, I just play. I want to go to college, but I'll leave it for when the good wave ends", says Mateus Vieira. At 18, the young man from Maracanaú (CE) says that he lives only on the income from his games on Twitch.
"In a bad month, you can get R$ 3,000," he says, who gets paid for ads and for more than 300 subscriptions on his channel. On average, each subscriber pays US$ 5, receiving in exchange privileges to chat with the player and removal of advertisements in broadcasts – profits are split between Twitch and the broadcaster.
Vieira, Lemos and Ruzza are some of the more than 5,000 Twitch partners, who profit from the site and help it grow, being opinion leaders for their fans. "They want to know what brand we're using, which opens up a huge field for advertising," says Ruzza, who estimates the value of an ad on the site at R$ 5,000 – Twitch, however, doesn't talk about billing or advertising.
"No one is so dedicated to broadcasting games," says Di Pietro. Ruzza, on the other hand, cites service rivals, such as Azubu.tv – which has more quality, but is less accessible. "Twitch is good for being simple and attracting a lot of people", he sums up.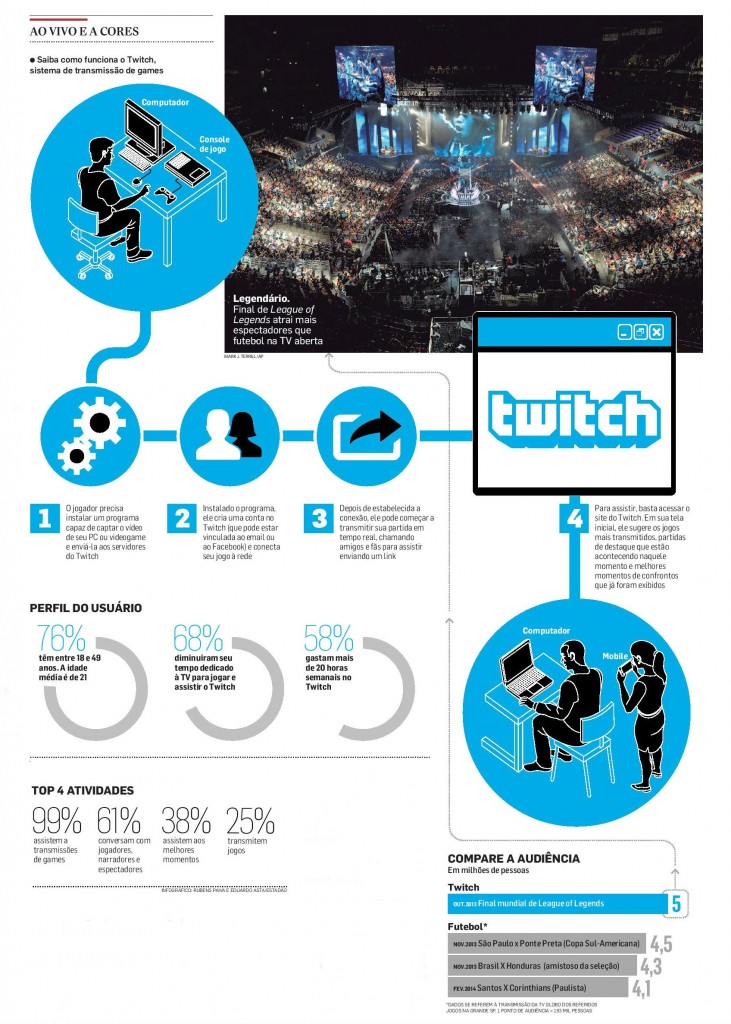 Source: http://blogs.estadao.com.br/link/twitch/
327 Total Visualizações, 1 Visualizações Hoje