We recently worked on a project that consisted of setting up a Budget system.
Budget System Requirements
Budget System where the Customer selects the product, and for each product selected chooses the quantity, and enters some additional information about the product. The selected products are saved in the basket until the customer closes the quote request. Upon closing, the customer chooses between a natural or legal person, fills in the data and sends it. The store receives the e-mail with the quotation, and responds with the values.
Searching the internet, I didn't find anything that exactly met this need. For this reason we had to develop a budget system.
The Budget System was very good, meeting exactly the company's needs. See the budget system in operation at www.rjgraficaeditora.com.br.
Budget System Features
This budget system has the following features:
Budget Basket/Cart
Specific budget by product, that is, for each product you can send the quantity and a brief description
Each product has its own parameters and settings.
Option to Close Budget and Continue Budget
Budget Form by Individual or Legal Entity
A Custom Quote Form
If you are looking for a complete and specific budgeting system for your business, go to contact.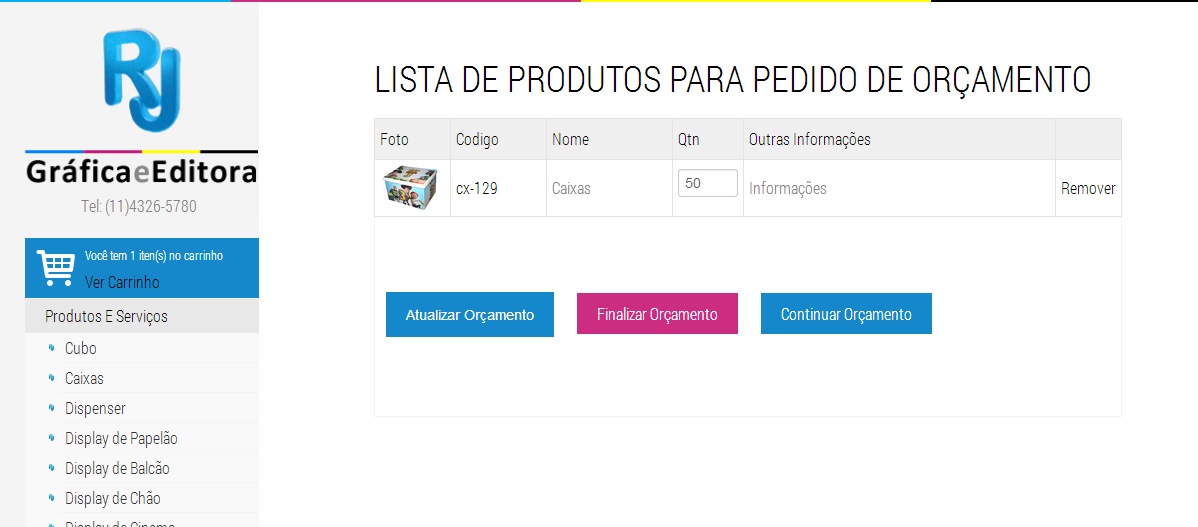 If you are looking for a budgeting system for OpenCart, see OpenCart Budget System
1,036 Total Visualizações, 1 Visualizações Hoje