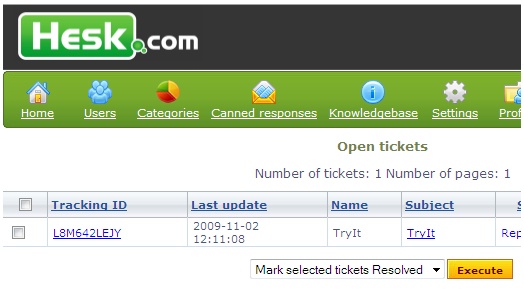 Researching about OpenSource HelpDesk systems, after testing several, I chose HESK among some.
HESK is simple, lightweight, easy, practical and Easy to install. You can install HESK from the Cpanel panel or else download the HESK and install manually.
HESK by default is only available in English, however on the website you will find several translations, including the Brazilian Portuguese translation.
If you wish, you can download here the translation of HESK for Brazilian Portuguese.
Translation of HESK 2.5.0 to Brazilian Portuguese
Language: Brazilian Portuguese
Date: 07/05/2013
Author: Fabio Bmed
HESK VERSION: 2.5.0
LANGUAGE FILE VERSION: 2.5.0
DOWNLOAD: http://www.fabiobmed.com.br/hesk-sistema-de-helpdesk-opensource/
1,301 Total Visualizações, 3 Visualizações Hoje