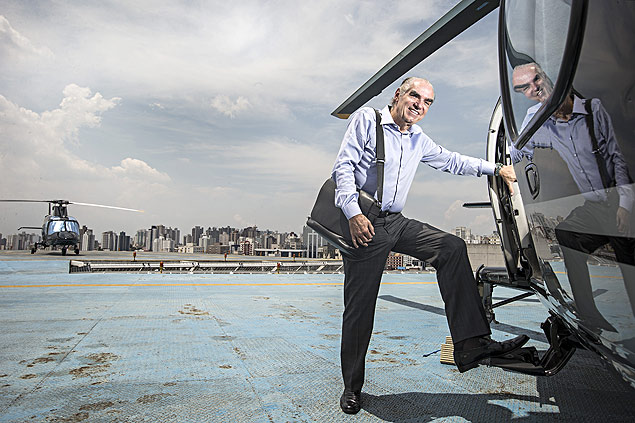 Businessman Samuel Klein, founder of Casas Bahia, made one of the greatest
country's fortunes selling TVs, refrigerators and furniture to budget people
tight, who could only buy on installments.
Son Michael sold the company in 2009 and put a hefty sum in his pocket. Now,
part for new ventures, this time with an eye on a clientele that has a lot
money to spend.
The new bets are on real estate and executive aviation. owner of
384 properties, valued at R$ 4 billion, the Klein family has stores, buildings
stores, distribution centers and industrial warehouses leased to banks,
retail chains and large companies. Last year, they invoiced R$ 246 million
with real estate.
The Kleins also want to set up an air taxi company. they already own two
hangars, a helipad, three executive jets and four helicopters, and wait
authorization from ANAC (National Civil Aviation Agency) to start operating.
"If everything works out, the goal is to have the largest real estate company in the country", he says
Michael Klein. "And air taxi is also a promising business, because Brazil is the
second largest market in the world for executive jets, only the United States
have more."
LOOKING FOR ALTERNATIVES
Soon, this range is expected to increase. The entrepreneur is looking for alternatives
to invest the R$ 1.6 billion it received at the end of last year, with the sale of
20% of Via Varejo (owner of Casas Bahia and Ponto Frio stores).
To evaluate new investments, Michael opened an equity company and
hired executive Luiz Carlos Nannini, who was at Ernst &
Young. Says he is willing to try new things, "but what else
appeared were real estate projects".
The Kleins decided to abandon the trade and move to another one last year,
after the attempt to buy control of Via Varejo went wrong, as a result of
merger of Casas Bahia with Pão de Açúcar (which owned the Ponto Frio stores).
Michael himself had sold control of Casas Bahia to Pão de Açúcar, in
2009. Months later, the Kleins regretted it. They managed to renegotiate some
terms of the contract, but the relationship with the partners was terrible. That is why,
Michael tried to buy the controller last year.
"We were unable to reach an agreement on the price", says the businessman. "Everything
well, it was time to get out of retail. There is no resentment, we are already in another."
By agreement, for five years the Kleins cannot enter into any business
that can compete with Via Varejo. They still have 27.5% from the company.
PROPERTIES
At 63 years old, father of twins who were born four months ago from the second
At his wedding, Michael personally evaluates the properties he buys. In the next
days, will take a look at stores and commercial buildings in Rio de Janeiro,
Uberlândia (MG) and in cities in the south of Pará.
"One of my tasks at Casas Bahia was to buy the points (for stores).
I bought 600 units and visited properties all over Brazil, except in Acre."
The Klein real estate company started in 2010, with 275 stores. Today there are 384
properties. About 300 are still leased to Via Varejo. the others to
banks such as Bradesco and Santander, Boticário and Marisa stores, dealerships
of cars.
The Gerdau steel company rents two industrial warehouses and Petrobras occupies a building
of 13-story offices that Michael bought in Salvador. "Let's reinvest
everything that enters the company."
Michael runs the family business, but his older children have their own flight. Natalie owns the boutique of NK Store. Raphael mounted the ROIX, an audience management technology company with clients such as Gafisa, Lenovo, TIM and Casas Bahia.
Source: http://www1.folha.uol.com.br/mercado/2014/02/1412009-a-vida-do-empresario-michael-klein-depois-das-casas-bahia.shtml
864 Total Visualizações, 1 Visualizações Hoje